Being a teenager all you want to do is explore different things and enjoy. It is always you and your friends up to so many exciting things but usually they are either not permit able to you by your parents or it is illegal for you to do it. So, if you are turning 18 soon then you really you need to see what is this age bringing up for you. You would definitely be one mature adult and hence you would be allowed to do stuff that was kept away from you because of the legal issues. Now, the time has come for which you were waiting since a long time, for you to step into a whole new world of experience.
25. Choose Your Own Leader
Being an adult with an individual mind set you have a right to choose what you really need as your leader. You might be very different from you parents and other family members and you always wanted to cast a vote for a different person rather than the one who your family is opting for. No one would actually want to give their part of vote to your thought and vote for the one you want them to rather than the one they actually want to vote.
If you are turning 18 and the elections are coming up soon than you can choose to vote for anyone on your own whom you think should be voted.
Many people don't use their and let it go useless but it is always better to go out and vote because after you are 18 it is your legal right.
24. Enjoy A Ride Of Your Own Car
Be it a girl or a boy the excitement to drive a car or a bike resides in every teenager. If you have some elder friends who have already turned 18 or your elder siblings who are allowed to drive, watching them do it makes your urge to drive more high. Driving is not that difficult even a 16 year old can learn it but it's all about getting a legal permission to drive.
When you turn 18 you can go and get some driving lessons and if you are have already learnt how to drive than you can go for a driving license very easily.
Once you can get a driving license no one can stop you from driving.
23. Book A Hotel Room
If you want to go for a trip and book a hotel for your stay you have to be 18 year of age to do so. There are no hotel bookings been taken below the age of 18 years. And then you would have to ask your parents to do it for you.
If you were living in a dorm and you wanted to make a plan with your friends for the coming Easter holidays from your saving without letting your parents know about it for they might not allow you
Then you would have to ask an elder buddy of your to get the hotel booking done for you. Otherwise you can't go on the trip.
22. Spend More Time On Your Work
You really want to save up to get that ps3 for yourself or buy an expensive ring for your girlfriend and then only thing is working a bit more than the usual hours. But this is really not allowed at all. Before the age of 18 years one cannot work more than the certain specified hours which are being allocated.
It is illegal to work for more than the given hours before the age of 18.
Turning 18 can let you work for more than the usual hours without any issues.
"Learn about what you can do when you turn 18 and start planning great things for yourself ahead."
21. Feel Mature By Adopting A Child
Well, 18 is a very young age to adopt a child for yourself. But there are young and rich celebrities who like doing such volunteer work for the orphans and the needy. If they are 18 or above they can easily go for a child adoption any time.
18 years of age has made it legal for the people to take responsibility of the child by the state.
18 years of age though is still a teen age but can handle a child.
20. Find A Life Partner
If you want to get married to your one and only soul mate then it could be easily done after when one has turned 18. There is no marriage that could be registered before the age of 18 years according to the law.
For a legal marriage one has to be 18 or above.
You can't tie a wed lock unless your age doesn't allow you.
19. Fight For Your Rights
If you want divorce from your spouse you could definitely get it only if you are 18 or above because there is no marriage that can take place before this age.
18. It's The Best Time To Buy Own House
If you dream big and want to get a house for yourself than 18 is the age when you can actually make your dream come true.
Affording a house at this young age is very difficult so one can go for renting a house.
Buying or renting a house for yourself is legal at the age of 18.
17. Feel The Sky In Your Arms
Sky diving is something way too thrilling and adventurous. It's not everybody who can do it. You need to be courageous enough to fall down the sky and that too at your own risk. This is a life time experience that you can never forget. The feeling of falling through the clouds and the adrenaline rushes is worth giving a try but again, this adventure is only for you if you are 18.
The form that you have to sign before going for this adventurous experience says that you should be 18.
There is no way that you can go for it before the age of 18 and have to wait to turn 18.
16. Book And Party In A Cruise
Do you wish to party with your friends this weekend on a cruise? But wait, are you 18 already to do so! Yes, again it is you age that will stop you to book a cruise even if you are not 18.
You have to be 18 years of age at least to get a cruise booked.
If you are not 18 than you would have to ask anyone elder to get it booked.
15. Be Daring – Do Bungee Jumping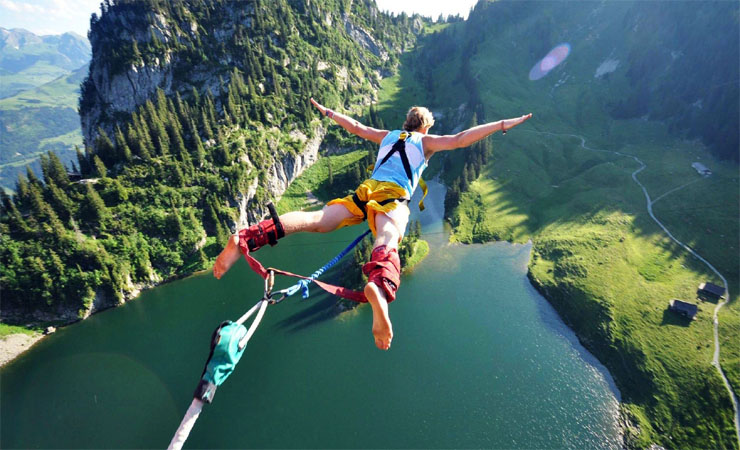 Bungee jumping is yet another fun filled experience that you need to have when young. This obviously not like sky diving but it is almost an equally exciting and a great experience to have with your friends especially.
But did you know that bungee jumping can only be done if you are 18 or above in age?
Yes, this is again one of those activities which have an age barrier and if you are not 18 this is not for you.
14. Adopt Your Favorite Name
Your name is something which you didn't keep it but your parents did and even if you do not like it you will carry it with yourself till the end or till you are 18 at least. People who want to change their name can do it but will have to wait to turn 18 and then change their name by their own choice
If you are 18 or above and the name that you have carried all your life you want to change than you should know that it could be changed.
Though it is a bit lengthy procedure to change the name but it could be done if you are 18.
13. Make Your Own Choices.
So, you want to sign a partnership contract with your friend but did you know that signing a contract also needs you age to be 18 or above.
A person is not eligible enough to sign a contract until he/she has turned 18.
Singing contract is a legal business which needs to be done by a mature adult a person less than 18 is not eligible enough to do so.
12. Hang Out With Your Friends
Drinking is actually illegal for the people under the age of 18. For them to be legal enough to buy them should be at least aging 18 or above. No one below this age can purchase it.
If you want to go to a bar and hang out with friends the legal age for you to do is 18 or above.
Drinking is only legal to you if you reach the age of 18.
"This 18th birthday is a very special one for you because it will demarcate a line between your childhood and your adulthood. Read here and see what can you when you turn 18."
11. Do Your Favorite Job
Either you want to go to a bar or work at the bar; both of them apply one condition i.e. you have to be 18.
A bar tender can't work there and serve people with alcohol until he has turned 18.
So, if you're looking for a job at a bar than you must be sure that you're 18 or above.