Lady Gaga is known not only for her dance hits like "Just dance", "Poker face" and "Bad Romance", but also for her eccentric dressing in concerts as well as in public appearance, is one celebrity everyone wanted to see without make up, just to assuage their curiosity.
Last year, she posted her picture from her bed, in the morning on Instagram and the fans were shocked. Underneath all that make-up, fake eyelashes, colourful wigs and custom made costumes hides a very pretty and fresh skinned woman. She is actually very good looking like many other celebs without makeup!
The founder of the Born This Way Foundation, which promotes youth empowerment and focuses on building a better society; says that it is a passion project for her and her mother. According to the mission statement of the foundation they hope to build a place "where differences are embraced and individuality is celebrated".
She wore a dress made completely of raw meat, along with heels and a hat, all made of raw meat to the MTV Video and Music Awards in 2010. So a departure from all that costume was a shock for the fans when she started posting natural photos of herself on the internet.
She was also seen in New York with baggy jeans and a band t-shirt, which according to the fans was a very tame look for her without any flashy boots or colourful wigs.
Lady Gaga was the one to start the trend of posting a natural selfies on Instagram, and after that a lot of celebrities have followed her instead. With or without make up, the fans like her either ways as she is pretty and beautiful. Her make-up free pictures show a bit of herself, which the fans can always benefit from as it makes them relate to her more easily and they feel more connected.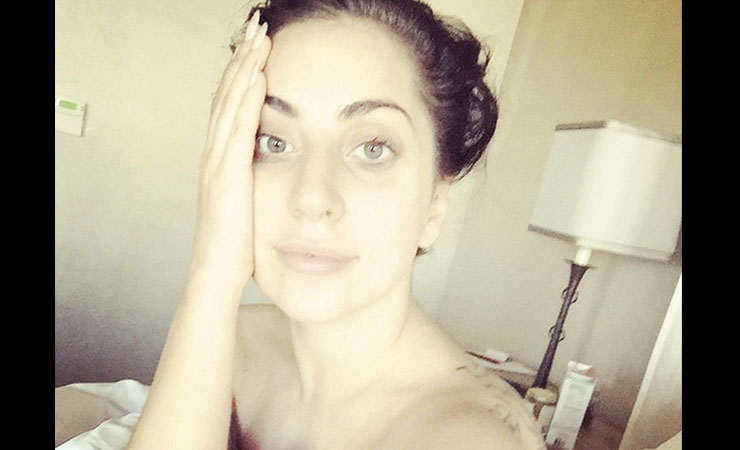 Related Articles:
3 – Kim Kardashian Without Makeup