An eye has perhaps the most appealing part of human body, it can speak volumes about who you are, and the mood you are trying to project. Being the central part of attraction, eyes are the most important features, when it comes to start a perfect makeover. Eye makeup is a unique way to enhance the beauty of one's eyes.
For your need, there are a number of charismatic styles in dramatic eye makeup available that will multiply your grace and add to the charm of your glittering eyes. Dramatic eye makeup comes up with many variations and styles that can enhance a person's appearance dramatically. Here are some of the enthralling ways and ideas that can guide you to achieve a mesmeric eye makeup.
32. Hot Pink Smokey Eyes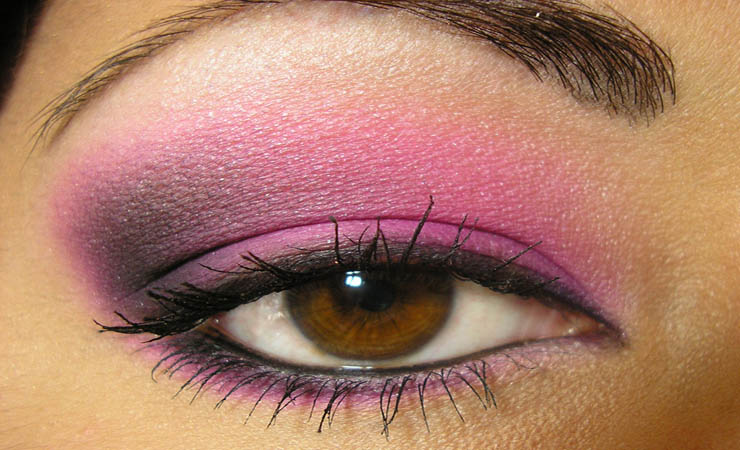 If you have prominent eyes, you can use dark shades of pink and golden in contrast with black, it will give the impression of attractive look. Smokey eye makeup is mostly favored at night functions and dinner parties because it enhances the beauty of your eyes quite dramatically.
31. Silver And Black Painted Eyes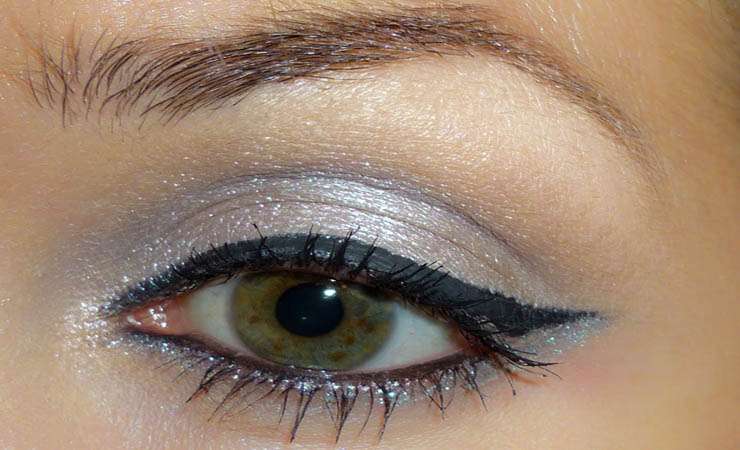 Silvery black eyes look astonishingly beautiful because all women equally like this combination. When we talk about Dramatic eye makeup, then silvery black eye makeup is best choice. Procedure is almost same for all dramatic eye makeup designs.
30. Peacock Eye Makeup
Another unique idea is to have peacock eye makeup with blue and purple eye shadows. This makeup will surely give a boost up to your demeanor; elevate your look for all event particularly at the evening parties.
29. Dramatic Eye Makeup For Hazel Eyes
Women with natural hazel eyes color may look attractive but classy colors can give those eyes astonishing look. If you have hazel brown eyes, try bold colors with gel shadows that will add more beauty and charm.
28. Green And Yellowish Makeup
Another trendy style is use of green and yellow in blending tone. This contrast is equally perfect for small eyes, but the tip is to add artificial eyelashes along with thick mascara. It is a perfect design for dramatic eye makeup.
27. Butterfly Eyes
Butterfly long eye makeup is quite in now a days in young girls and showbiz personalities. Glittery eyes with colorful butterflies' wings will make you feel special in any function.
26. Sky-Blue Dramatic Eye Makeup
To have this perfect energetic look, apply white base color on eyes, and then add a thin layer of sky blue shadow around the eyes. Apply a bright turquoise blue shade all over your lid and gently fill the surface and blend it along the margin line so that eyes got bigger and vibrant.
25. Dark Purple Shades
If you love darker shades and splashing colors then dark purple is amazing color to have it on eyes. It is bright, vibrant, and stylish and looks amazingly beautiful when merged with black and grey.
24. Golden Pinky Eye Makeup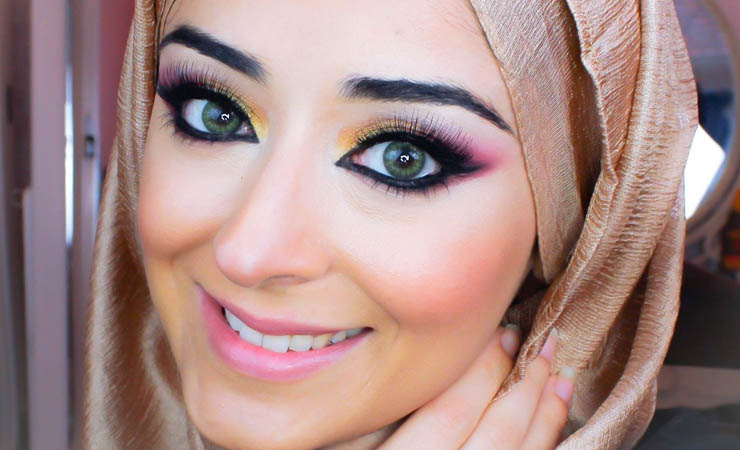 Golden and silver shades are preferably liked when it comes to dramatic eye makeup and golden can enhance any color tone because it is bright and sparkling. In this eye makeup, golden can be used at margins with pink eyelids.
23. Black And Brown Glamorous Makeup
One of the most favorite eye makeups is smoky eyes by using black and brown shades in merging contrast. This looks astonishingly beautiful on long wedge-shaped eyes if it is done skillfully.
22. Galaxy Stars Eye Makeup
A unique and mesmerizing makeover for dreamers and the lovers of stars, Black and purple are dominating shades in this makeover. White crystal dots are used as a final addition to give the effect of stars.
21. Sunset Eyes
Yellowish orange shade is dominating tone of this dramatic eye makeup, again a perfect makeover for evening parties.
20. Smoky Eye With A Pop Of Pink
If you have a deep surface area on your eyelids, then go for pure smoky eyes and for more glamour, add light shades of pink, blue and browns with thick black margin line. This will not only give elongated shape to your eyes but also make them more stylish and eye catching.
19. Ultra Clean Smoky Eyes
This eyes makeover is preferable among fair skin tones because transparent light color shades are used instead of darker shades.
18. Vegas Lights Dramatic Eye Makeup
Stylish yet very simple and easy to have it on eyes, dark brown glittery eye shadow is used on full eyes. After that, black thick line is curved with the eye pencil and Vegas lights are ready to sparkle.
17. Candy Glamour Eyes
Another shiny design for dramatic eye makeup is candy glamour design that is used on any eye makeup just by adding some pearls and shimmer. It is quite common among young girls who love to play with colors.
16. Hot Sparkle Blue Makeup
Navy blue, blue greens and sky blues all are hot colors of dramatic eye makeup and uncountable designs are created by use of these cool colors.
15. Silvery Black Shade Eyes
Silver color is normally used as a base color on eyes and you can create thousands of patterns in contrast with silver shade. For example, on the top of the silver base, add metallic silver with black eye pencil for a glamorous look. You can try other colors along the margin of eyes to enhance further beauty.
14. "The Cat Look" Eyes
Another funky dramatic eye makeup is the cat look eyes. To have these eyes, heavy use of liquid eyeliner is must. To achieve this look, get a palette of eye shadows with white, light pink, light brown, and a dark charcoal shade.
13. Exotic Arabic Smokey Eye Makeup
It is an amazing makeover for elongated eyes and to achieve these eyes, you will require a dark mauve or brown color that can be used as an outer crease. White liner pencil is for drawing a line between the liners that gives shining look to this stunning eye makeup.
12. Neon Rainbow Eye Makeup
Here comes another dramatic eye makeup for evening parties that is done by using of vibrant neon color shades in yellow, pink, blue, white, and violet. It is stylish and attractive too.
11. Glittery Blue And Silver Eye Makeup
For this fantabulous makeup, you need to combine dark colors with lighter shades. Colors can be of your choice but make it sure blending should be perfect to have a classy look.
10. Dramatic Vampy Eye Makeup
This eye makeup is occasion-specific and mostly carried out at Halloween or any other evening party. However, if you like to wear this particular look, on other casual days, try out with ease.
9. Flashy Candy Cane Eyes
Flashy candy cane eye makeup is for Christmas celebration eves. For this special makeover, use dark red, white and pink eyeliners with some feather lash extensions and glitters.
8. Muted Smokey Eyes
This astonishing shade of dramatic eye makeup is quite different from regular smoky eye makeup. Brown or light black shade combined with a little maroon is a unique contrast for a muted finish.
7. Leopard Style Eye Makeup
This dramatic eye makeup is highly creative and demands perfection to deal with but it looks amazing on any types of eyes. Try it now!
6. Hot Carnival Eyes
Another fantastic addition is to have carnival look eye makeup and colors needed for this look are glitter purple, matte magenta and blue. Feathery lashes will add more style to this eye makeup in a surprising way.
5. Gradient Blue Cut Crease Eye Makeup
This gradient eye makeup is very popular among all age group women because of its mesmerizing effect. Despite its strikingly unique look, this makeup look is quite easy and simple.
4. Patterned Eyes
Multilayered dramatic eye makeup needs bold and dark color shadows for a carnival look and this makeover is achieved by using red, blue, yellow and purple color shades. Apply different colored layer in a line segment on eyelids.
3. Glitter Black Eyes
The real charm of glitter black eyes makeup is based on stones and sequins that are used in it. They impart a real dramatic look to your eyes and bring a striking glow to them. Your eyes get an entirely new shape that is unique and stylish at the same time. It is done by using a glitter grey shade and a black eye shadow for the whole of the lid.
2. Bat Eye Makeup
Another unique trend followed these days is eyes' painting and is getting common in dramatic eye makeups too. Bat eye makeup is one such example that is done by drawing bat shaped wings around the eyes.
1. Carnival Eye Makeup With Stars
For this makeover, we need glitters, stars and different colored sequins and apply them to create and recreate different designs on the eyes. It is surely a perfect choice for dramatic eye makeup.
Dramatic eye makeup is a popular trend these days and the reason of its popularity is excessive use of vibrant colors and decorating items. It is a perfect makeover for night parties and evening dines. So for upcoming events, be ready to use these enthralling ideas of a perfect dramatic eye makeup and send us your feedback.