Are you tired of all the remedies for dry, brittle, frizzy and lifeless hair?  If you wish for beautiful, shiny and silky hair, then you have come to the right place. One simple and easy remedy can answer all your prayers. You need not to go for different commercial products and beauticians. You can get your dream hair by using a simple ingredient from your kitchen, the apple cider vinegar.
Apple cider vinegar does wonders to the hair. It is one of the loveliest things to have in your bathroom. You can easily make your own scented toiletries at home with this common household product.
It is the desire of each and every person to have strong shiny hair. It is also a confidence booster for a person but when a person has dull and dry hair all his confidence is shattered. Because of amazing apple cider vinegar hair benefits, it is highly recommended by herbalist.
The beneficial properties of Apple Cider Vinegar have been exploited by man for thousands of years. The history of early Greek civilization depicts the popularity of Apple Cider Vinegar among many historical figures. The Hippocrates used to recommend it to his patients due its disease fighting nature. The most popular-Helen of Troy was known to bathe in Apple Cider Vinegar. Hence the use of different types of vinegars has been reported throughout the centuries, for different purposes by people.
Health Benefits Of Apple Cider Vinegar
Apple cider vinegar is a blend of many essential nutrients which makes it the most favored option among many other kinds of vinegars. Some of the most important nutrients that are found in apple cider vinegar include; potassium, sodium chloride, calcium, phosphorous, bioflavonoid, pectin, magnesium and copper. The vitamin stock that is packed inside the apple cider vinegar contains vitamin A, vitamin C, vitamin E and B vitamins including B1, B2 and B6.
Formation Of Acv
The process of formation of apple cider vinegar is just the same as any other vinegar and involves fermentation of fruit juice by the action of yeast or other microbes. The microbial activity upon the fruit unsweetened, non-alcoholic beverage results in its conversion into the vinegar. It can also be easily made at home by adding the "mother of vinegar" into apple cider and then leaving to ferment.
Why Apple Cider Vinegar Is Most Preferred Amoung Others
Vinegars have a tonic quality and helps in the circulation of blood in capillaries under the skin. Some of the common uses in beauty treatment include the control of dandruff and to bring shine to hair. The most preferred vinegar-among all the vinegars, for treatment of hair problems have always been the apple cider vinegar. Apple cider vinegar has a multitude of benefits. It has a calming effect on itchy scalp. It reduces hair dandruff and hair fall. It brings shine and luster to hair due to its anti-oxidant, surfactant and cleansing qualities. It also is a very good ruberfacient, exfoliant and bactericide. Being obtained from plant material, Apple cider vinegar with it mild cleansing and non-irritating nature, is the best organic product for hair problems. Apple cider vinegar hair rinse is known to be one of the best hair remedy you can find.
Let's discuss some of the problems for which apple cider vinegar can be used.
6. Protection From Split-Ends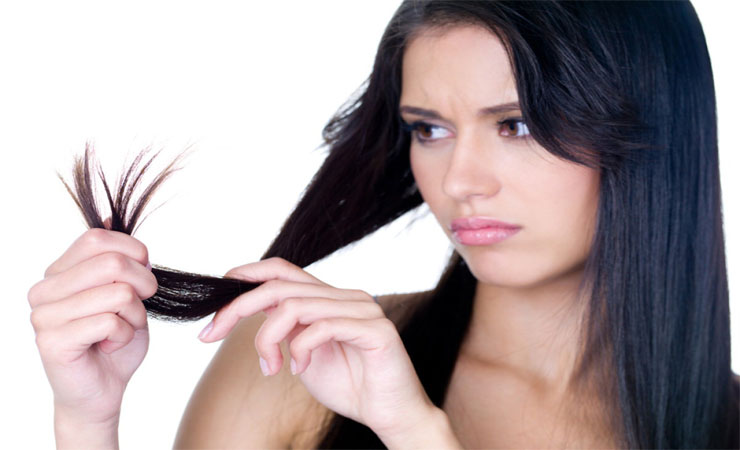 A hair fiber is coated with a cuticle layer that helps to reflect the sun rays and also gives the hair fine texture. Commercial hair products, environmental pollution and harmful solar rays adversely affect the hair by damaging the cuticle layer and thus leaving the hair dull and dry. Apple cider vinegar contains potassium and other useful minerals and has a natural potential to help restore the hair. If the cuticle coating is tightened, then the damage can be reduced, thus, preventing hair breakage and formation of split-ends. So it is highly recommended to use apple cider vinegar for hair to get rid of split end problem.
5. Preventing Dandruff
Dandruff is usually caused by a fungal infection, making the scalp itchy. The Malic acid present in Apple cider vinegar has antifungal and antibacterial properties and can be used to treat different fungal and bacterial infections. This effective germ killer can thus be used to treat the problem of dandruff and scalp itch. The apple cider vinegar has even proved to be more effective than eggs, oils and yogurt.
Apple cider vinegar is now a major component of many organic hair shampoos and conditioners due to the presence of a wealth of synergistic anti-oxidants and other beneficial plant harmones that reduces the dandruff, dryness and flakes without causing any inflammation and harmful effects. Because of its amazing benefits herbalists suggest to use apple cider vinegar hair remedies to get rid of hair related problem.
To combat dandruff, a mixture of water and apple cider vinegar, in equal ratio, should be massaged into the scalp. The mixture should be applied for 15-20 minutes and then washed with luke warm water. This helps in restoration of the acid-mantle layer and prevents further fungal growth.
Quick link =  Home remedies for dandruff
ACV can also be applied to the hair by mixing it with a regular shampoo. 1tsp of vinegar is mixed with equal quantity of shampoo and is enough for a single wash.
4. Balancing Of PH
Normal range of pH for human scalp is in the range of 4 to 6. Most of the chemical hair products available in the markets have alkaline nature. Regular use of these commercial products disrupts the natural pH balance of the scalp. ACV has a pH value of 4, which lies in the natural pH range for the scalp. ACV is therefore a highly recommended organic product for washing hair. Apple cider vinegar hair rinse is especially effective in balancing pH.
3. Reduced Hair-Fall And Promotion Of Hair Growth
Hair-loss is a horrendous threat to every woman and man. Many people go for hair transplants, chemical-laden shampoos and other hair products, to treat this problem- and end up losing a large sum of money and time on it. Taking apple cider vinegar strengthens the metabolism and applying it into the hair increases its ability to retain more moisture by sealing the cuticle of hair. The increased porosity of hair and the more compact seal of cuticle make the hair roots stronger, reduce hair-fall, stimulate hair growth and give it a healthier, lustrous look.
A research study carried out by a group of Japanese scientists over men's baldness has revealed that the apple-juice-procyanidins B-2 stimulates the hair growth in men's male-pattern baldness. Studies on mice have even showed that pro-anthocyanidin causes hair growth at a rate of about 300% compared to any other similar looking placebo.
The mechanism of action of apple cider in hair re-growth in case of male baldness is that it reduces the inflammation and scalp swelling, that may be the main reason of hair loss. The use of apple cider vinegar for hair is one of the best remedies for hair fall.
A common recipe for reducing the scalp inflammation and enhancing hair re-growth includes the use of Cayenne pepper. 3tbsp of cayenne pepper when added to 12 ounce of ACV makes a perfect mix for hair re-growth. Ginger can also be used as an additional item to the recipe. The mix should be applied to scalp for 5 minutes or more. Care must be taken to avoid contact of the mixture with the eyes as it is like a milder version of pepper spray.
2. Hair Conditioning
Apple cider vinegar can be the best option to replace the chemical-laden product used to condition hair. Its results are far better than any such products. ACV in its purely organic, raw and unpasteurized form is a wonderful hair treatment product that makes hair tangle free, settles the frizz and leaves them silky smooth. Application of apple cider vinegar mixed with aloe gel can act as a best conditioner for hair. Make sure to use this apple cider vinegar hair treatment for good effects.
ACV mixed with water in equal quantity when applied to the hair can also act as a conditioner.
1. A Natural Cleanser
ACV is a natural surfactant and with its mild cleansing action and exfoliant nature, the dead cells and sebum layer clogging the hair follicles are removed-leaving the hair invigorated. Due to its cleansing property, it perfectly removes the nasty dirt residues and leaves the hair grease free. It also eliminates the dead skin cells and chemicals from the scalp hence preventing any kind of dandruff build-up. So apple cider vinegar rinse is higly suggested for this problem.
Apple cider vinegar also relieves scalp from lice and can be used as an anti-lice product. Apply vinegar to the scalp, leave for some time, then massage any hair oil into the hair and comb the hair with a fine tooth comb.
Other Remedies
Different types of essential oils and herbs can be added to give it a special fragrance. These natural oils and herbs can increase the benefits of apple cider vinegar for hair.  Herbs also enhance the hair health, color and act as conditioners. Rosemary, lavender and other essential oils can be added to apple cider vinegar according to one's own choice of fragrance. Some essential oils are very strong and if not handled properly, can be very irritating. One should be knowledgeable about the oils and its use to remove any complexity. Every recipe has specific ingredients and every recipe has its own beneficial properties. ACV can be used alone or it can be used with essential oils of lavender, rosemary, tea tree oil or other herbs. It can also be used in combination with honey. Some of the most effective recipes are given below.
Mix 5-10 drops of essential oil into 2 cups of ACV and store in a glass bottle. Apply to the hair half hour before washing hair.
For homemade shampoos and conditioner; take 6-7 soap-nuts and crush them. Add 2 cups of water to the crushed soap-nuts and boil for 30 minutes. Add equal amount of baking soda to the mixture and stir all the ingredients thoroughly. The mixture is ready to be used as a shampoo. After washing the hair with the homemade shampoo, the apple cider vinegar should be applied to the hair as a conditioner. It is perfect for reviving the dull hair.
Mix 1 part apple cider vinegar with 1 part of water. Apply the mixture to the hair and massage it onto the scalp. This simple practice is best for refreshing the hair.
Take 2 tablespoons of ACV, some herbs of choice and add them to 2 cups of boiling water. Boil the mixture further for fifteen minutes on a medium Cool the boiled mixture and apply it to hair. Leave it for 15-20 minutes and then rinse with luke warm water. Refrigerate the remaining mixture.
Directly massage the ACV on scalp, cover the hair for 15-20 minutes with steamed towel. Rinse the hair and towel dry. This is one of the best apple cider vinegar hair remedy you can find to make your hair strong and beautiful.
ACV does wonders to hair and scented ACV products are a beauty treasure for both hair and body and can be used along with countless products in a number of ways to get a perfect skin and perfect hair. So, Stop being skeptical about the use of apple cider vinegar on hair and pour the natural beauty treasure on your hair without any fear and feel the difference.
Points To Look
Apple cider vinegar has a multitude of benefits. It has a calming effect on itchy scalp and also maintains the pH balance of the scalp.
Apple cider vinegar can be the best option to replace the chemical-laden product used to condition hair. It also eliminates the dead skin cells and chemicals from the scalp hence preventing any kind of dandruff build-up.
Different types of essential oils and herbs can be added to give it a special fragrance.