20. Chin Length Bob With Side Swept Bangs
This dashing caramel medium bob hairstyle brings out your skin tone. Its A-line projection maintained by the medium side-swept touch looks especially stylish in irregular hairstyles, when one side is tucked behind the ear.
How To Style This Hairstyle: For those ladies who are too afraid to get a very dramatic cut but also need to shed those years off of their faces, a chin length bob is a classic haircut. This haircut has been there for ages and has been ever loved b women of all ages.
This is a completely manageable haircut and demands pretty less attention.

For thicker hair it is not necessary to go through a blow dry regime, each morning. But for thinner hair women, a little teasing on the crown area and some subtle inward blow drying will define the cut for them
Recommended Faces:
Chubbier oval and round shaped women can flaunt this look, easily.
Recommended Product:
Ultra-Hold Sculpting Clay by Alterna Bamboo Style is known to hold your look for the day without you even worrying about it.
 19. Medium A-Line Both With Asymmetry
This irregular and lovely bob looks very charming and rocking. The medium left side of your haircut will mix with the side bangs to place an emphasis on the upright lines; this is the frequent style in this cut and works good on round and square faces.
How To Style This Hairstyle: For those cute smiled and sharp boned ladies this is the perfect haircut for you and we have got the simplest of ways to help you style it up and look sassy all your way to the events you're set to dazzle at.
Pick up your straightening iron and follow it up down the length of your hair but twist your hand a little towards the end of the strand and set free.

This technique adds an outward edge to the layers and edges, giving a much defined look.

Finish this look by adding the same curve to the front bangs.
Recommended Faces:
The haircut suits oval and heart shaped faces, the most.
Recommended Product:
Shine Spray by Privé will help you settle your problematic areas easily.
 18. Cropped Bob With Thick Blunt Cut Bangs
As the name indicates, this cropped haircut in medium bob hairstyles for black women displays horizontal lines and perfectly accurate edges. Similarly when flicked cut is given additionally, a smooth vintage flair is there to give you astonishing beauty.  This style can be worn in different occasions and it goes very well when paired with red lipstick.
How To Style This Hairstyle:  For the ladies who have mostly kept fringes throughout their life should once go for a very classy and edgy short bob, more like bringing back the golden era of classy Hollywood divas.
The only care this haircut needs is for its fringes and to style the fringes is not much of a task.

A god dab of hair wax or gel to smoothen out the rough areas and then using a slight touch of an inward blow dry gives the fringes the fluff that it needs.
Recommended Faces:
Round and chubby oval face types flaunt this hairstyle, the best.
Recommended Product:
Ultra-Hold Sculpting Clay by Alterna Bamboo Style will help you get a grip of your bangs.
 17. Highlights With Heather Bob Hairstyle
This medium bob hairstyle is very easily maintained style and is able to be modified into beautiful loose curly waves from an aligned smooth look. Best suitable for oval shaped faces and medium textured hair.
How To Style This Hairstyle: Highlights are pretty amazing when it comes to balancing out any highs and lows in your overall cut or texture of hair. Therefore a lot of women opt of hair dying, streaks and ombre to add that oomph factor in their personalities.
For the Heather bob consult a good hairstylist that can recommend you a good color and style of dying.

Once done, you can easily go for straightening or curling as both will add a contrasting effect on your face and personality.
Recommended Faces:
Slimmer faces like the heart shaped and oval can flaunt this haircut in style.
Recommended Product:
Grooming Cream by Privé helps tame any uncontrollable hair.
 16. Two Toned Tony Bob Hairstyle
This classic bob weave gives you an immense protective style which is very easy to do and will last for at least a month. This sleek two toned tony works good on all face shapes and is suited for every hair type that has varying lengths.
How To Style This Hairstyle: Two toned means a good sharing of color magic with a great hair cut. A great cut with a great dye not only elevates the overall look but also adds it up to your personality.
Research about all the possible colors that will suit your haircut as well as your skin tone

Always consult your stylist before finalizing any look.

Once done, go for the big change.

On another note, the two toned technique means using a base color completely different than the ombre or at times it occurs that the base color is applied leaving a half an inch away from the base to add the root black color to the two tone.
Recommended Faces:
This haircut is made for all face types.
Recommended Product:
KMS California provides Hair Play Clay Crème, the product is enough to fulfill all your styling needs.
 15. Tapered Bob With Swoopy Bangs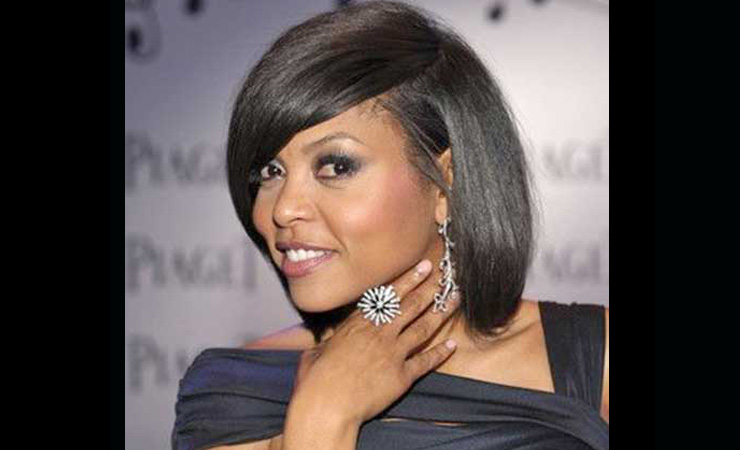 Stylish bob with the length at the neck features swoopy bangs and a narrow outline with volume on the top. The interesting coloristic solution is also there which is, you can color your hair and by doing so, this short styled bobs can be made awesome to the next level.
How To Style This Hairstyle: Covering the forehead is always a deal for women who have broader foreheads and it becomes a big deal at times. So the better it is to have good thick and saucy bangs n the forehead to cover up that extra mile.
Use a volumizing crème especially for the bangs and use a straightening iron to smoothen it out.

Spread the bangs over the forehead to cover up the space, in style.
Recommended Faces:
Round and inverted pyramid can work this haircut in the best of ways.
Recommended Product:
Bumble and Bumble's Sumotech is the kind if product you should be looking for to get better hold and longer stay.
 14. Bob With Angled Layers
The ends of this medium bob are textured and coupled with extremely tilted layers that can be incorporated throughout your black locks.
How To Style This Hairstyle: For ladies who are more into straighter and sleeker looks the angled bob with layers is a very clean and neat choice.
This haircut can be styled by adding fringes to the hair, it could be either faux or you can even opt for real fringes instead of bangs for a change of look.

This haircut is known to deduct some years from your actual age.

The only thing this haircut needs is a good straightening regime to smooth out any rough edges and to neaten the overall look.
Recommended Faces:
Square and oval are good players for this haircut.
Recommended Product:
Oribe Superfine Strong Hold Hairspray helps keeping the fringes and the rest loyal to you for a longer period of time.
 13. Stacked A-line Bob Haircut
One of the finest examples of medium bob hairstyles for black women is this groomed and impulsive bob haircut. From front, key facial features such as the lips can be beautifully framed and emphasized. This magical combination of lengths possesses heavenly beauty that impart you a stunning and the most impressive look.
How To Style This Hairstyle: There were times when it was called the mushroom haircut, don't know the reason behind calling it that, in particular. But this haircut requires some good teasing to create a nice volume filled hairstyle.
Straighten out the hair and then slowly and gradually move forward towards the crown step by step teasing from below the crown area.

You can also add streaks of bold colors to add a rebellious touch to the overall look.
Recommended Faces:
Heart shaped and oval can enchant the world with this haircut.
Recommended Product:
Kerastase Nacre wax from the Nutritive line provides a very light and soft finished look.
 12. Layered Bob For Adorable Curls
The bangs and layers allow showing off the lovely disconnected locks with edgy tips. By giving more emphasis on straightening the hair, this medium bob hairstyle acquires even more charm and overwhelming appeal. Looks more impressive when styled off from the centered!
How To Style This Hairstyle:  So for the ladies who have naturally curly frizzy hair they can flaunt this hairstyle in class and uber chic sense without having to do any hard regime following at all. Because naturally wavy hair when cut short are rolled up into natural and very amazing curls, on their own.
This adorable curls loaded layered bob keeps on adding volume with ever layer.

The natural curls give it a very glamorous look.

Always use a setting gel post shower to hold the curls in place with minimum effort.
Recommended Faces:
Natural curls work great with all face types.
Recommended Product:
Nutritive line providing the Kerastase Nacre wax has given a great alternative for using the conventional setting mousse.
 11. Asymmetric Bob Crop
Fun medium bob hairstyle crop will instantly make you the center of everyone's attention. Its lovely wispy texture and asymmetry of the cut makes you extraordinarily smart and gorgeous. If you want to create a chic graphic style, this asymmetric bob will also look great on relaxed locks.
How To Style This Hairstyle: The Asymmetric Bob crop I basically a pixie cut and thus it doesn't need a lot of gadgets and tools for styling but what can actually lift this haircut is a good hair dye, either two tones, ombre or even streaks.
The dye will bring a whole new dimension to the cut and the personality as well.
Recommended Faces:
Slimmer oval and heart shaped faces are able to rock this look.
Recommended Product:
Paul Mitchell's Spray Wax will add a good amount of subtle shine to the hair.