Are you bored with the same dull hairstyle then why don't you give braids a chance? Add braids to any haircut and they will make it fascinating. Black braided hairstyles are not something new but they have been in trend from centuries especially among the African American community. There is always something special about them that is why they are still in trend. The good thing is that there is a great variety of braids; micro braids, cornrows, fishtail braids, blocky braids, twist braids, hair bands and etc.
You can choose any of these depending upon situation, your mood, style or dressing. The awesome African American braided hairstyles listed below would not only add up to your personality but they will give you a whole new look which is sure to be praised by everyone.
30.  Unmatched Combo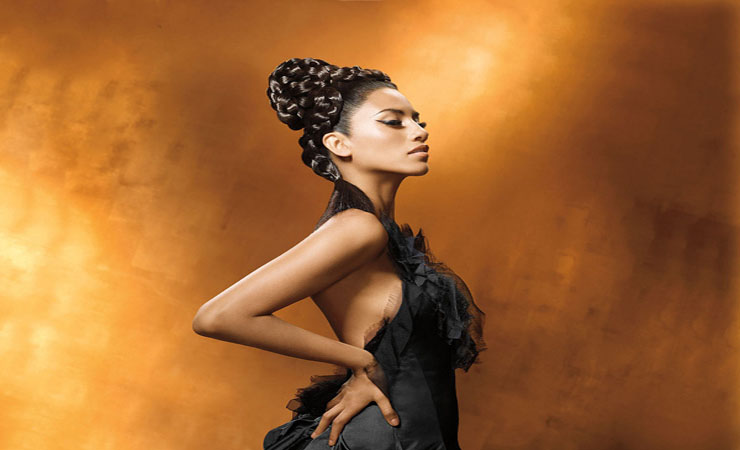 Are you confused? Do not know what to go for either braids or curls? Then here it is; the best possible solution for you in black braided hairstyles. It is an unmatched combo that has both braids and curls. On the front you have got braids which explode into curls on the sides giving you a fabulous look. If you introduce a part either in the centre of the braids or a diagonal part that will make the style even more flattering. This style is also very different from the usual braided styles that we normally see. If you want something new, different and unusual then you must go for unmatched combo.
How to Style
Straighten the hair at the back of your head, to make braid
Use pomade or gel to make the sides look sleek
Tease the crown section, which will make the French chignon
Tuck this hair on sides on both sides and secure with bobby pins
Recommended Face
This style compliments round faces, and makes them look elongated as it adds height
Recommended Product
Use styling gel to make the hair look sleek and a bit of hair spray at the crown when back combing.
29. French Black Braids
You are no less than a queen while wearing this amazing French style braid. A thick fabulous braid starts at your bang, completes the whole perimeter and ends at the crown rolling up into a gorgeous looking crown. Really very graceful! French Black Braids are stunning in look and well match a number of occasions and the robes you like to wear on such events. They are one of the most prominent hairdos in African American braid hairstyles that have sustained their popularity over so many years. French Black Braids are especially remarkable for their thick look.
How to Style
Start by parting your hair into four sections from your hair line.
Now start making French braids on each of these sections till you reach the nape of your neck
Once all the sections are tied into braids you can either combine all them into one braid or make a ponytail with each individual braid
Recommended Face
This is a style which looks good on all face shapes but compliments round faces more, especially if you have a small forehead
Recommended Products
You may want to wet your hair slightly or use a bit of coconut oil so that when you are parting your hair into sections it does not tangle. This will make it easier to manage the hair
Quick link = Ombre Hair
28. Enchanting Braids
Enchanting Braids are old African American braid hairstyles. Even though they are centuries old, but they are still in trend due to their fabulous appeal. All your hair are turned into thin braids running the whole length of your hair. In this style the braids extend up as lower as to the naval. If you want an even more luxurious look the hair on top can be tied leaving those on the bottom free. This style haircut takes a lot of time as so many small fine braids are braided but the end result really pays off as it adds so much to your personality.
How to Style
Start with clean hair, just pick random sections of your hair and start braiding them all the way till ends.
The smaller sections you pick the more elegant your style will look
Slightly loosen the braids from the crown to give your hair some volume.
You can either tie the hair together into a ponytail at the nape of your hair or leave it completely open
Recommended Face
This hair style is very elegant and goes well with almost all face shapes but looks more elegant on slightly round and oval face shapes.
Recommended Products
You can use some oil sheen and in the end use hair spray to make the braids last longer.
Quick link = Layered haircuts
27 – Mohawk Braids

In Mohawk black braided hairstyles, the hair on the front fall up to your eyes and on the crown the hair are short so they can hold straight up to form spikes. On the back, the hairs are again long hence falling backwards. This small strip extends from the very front to the very back. On the sides there are very fine and thin braids along your skin extending upwards and forming a very intricate pattern. You must only use lightweight holding products on your hair so that they may not weigh down.
How to Style 
Part your hair into a side part
On the smaller section start making corn rows and secure the ends with a rubber band
The braids start from your ear and go till the parting
Leave the rest of the hair free or you can use wide barrels tong to add some volume to them
Recommended Face
This style is more suitable for people with oval and long faces
Recommended Products
Just use some mouse or hair gel for the roots. Using mouse will give your hair more structure.
26 – Braid Inspired Solution
Are those full length braids way too much for you? If it is so, then try Braid Inspired Solution, a perfect solution for your hair. In this haircut, the braids extend from the roots to about two inches further along the hair while the ends are un-braided. You can vary the length of the braided portion as per your own choice and liking. This gives you a very interesting look that is suitable for any occasion and this makes it the best in African American braid hairstyles.
How to Style
From your hair line just start braiding your hair into fine braids, similar to corn rows but don't pull the hair so tightly
You can stop after two inches or take the braids slightly further down.
Then simply sew all the ends at your name or on one side below your ear.
Recommended Face
This hair style is ideal for people with oval and rectangular face shapes.
Recommended Products
Use a bit of moose to give your hairstyle a more polished finish.
Quick link = Long hairstyles
25 – Intricate Patterns Black Braids
The most awesome thing about braids is that apart from their classy looks you can shape and style them in any pattern or shape that you want. This is what is done in this haircut as well. All your hairs are turned into braids right from the roots and forming some pattern. The most common style is that these tiny braids are folded right at crown to form flower type shapes.
How to style
Part your hair into three or four sections.
Instead of making the parts into straight lines you can go in any shape you want.
You can even start form the front and then make the sections join diagonally.
Start braiding one section at a time and braid all the way down tills the end.
You can then combine the braids and make a nice bun or even a pony.
Recommended Face
This hairstyle goes well with any face shape. This is ideal for those whose hair is curly or wavy as it tames your hair.
Recommended Products
You can use hair moose and finish the look with some hair spray.
24 – Diagonal Braids Black Braids
Do you want to stand out among the crowd or you want the heads turned towards you and you don't want to go unnoticed then what are you waiting for simply go for these showy diagonal braids. The special thing about these black braided hairstyles is that they go well with all face shapes equally well. To add even more beauty at every knot of the braid from crown to the back till the place where the braid is pinned ribbons can be introduced. These ribbons are made from the hair taken out from the knots. They really look great and that is something which you can be proud of.
How to Style
Start by taking a tiny section at the front, make a diagonal braid and secure with a hair band.
Now start the second braid slightly apart and cross it over the first one.
This way make diagonal braids all across your hair line, overlapping each braid
When you are done you will have a criss-cross pattern on the crown area.
You can take another section from behind one ear and French braid it diagonally towards the other ear, right over where all the braids end.
This will hide all the braids endings and give you a nice head band made with your own hair.
You can leave the ends of your hair the way they are or curl those slightly using tongs.
Recommended Face
This hair style will suit anyone especially if you have a small forehead; it gives the illusion of a slightly bigger forehead.
Recommended Products
Use an oil sheen or some pomade. This ads shine to your hair and also keeps the hairstyle intact. You might want to spray the front section with some hair spray also.
Quick link = Curly hairstyles
23 – Most Sophisticated Braided Updo

This is one of the most elegant black braided hairstyles in appearance as the name reflects; this hairdo is so amazing you just keep looking at that. In this haircut your hair are turned to braids from the sides towards the centre. There are horizontal braids and when they reach the centre they fold on to each other forming spirals, this cut will give you a very nice look and are worth having once in a lifetime. It is perfect for oval or round shaped faces as it makes the face appear narrow. Fine braids extend from the centre outwards to side folding inwards naturally even covering your neck from the front giving you a very chick look.
How to Style
Sprits you're slightly water or any other styling product that you prefer.
Then smooth it all into a Mohawk.
Braid the sides into fine braids and end them where the Mohawk starts
If your hair is short add hair extensions to give your bun more volume
Tease the bun slightly and add a hair slip or any other jewelry to add glam
Then spray the braids and the bun with hair spray
Recommended Face
This hair style is suitable for round and small faces as it adds height to your face and makes it look slightly elongated.
Recommended Products
Hair pomade, hair spray and soft clip-in extensions.
22 – The Chick Braided Mohawk
Even some simple and easy to make hairstyles can turn up to be very glamorous such as this. In this cut you head is divided into five longitudinal portions with a braid running in the centre of each one and on the back all of them combine to form one single ponytail. It's definitely among the must have braids. This haircut again is inspired from the legendary Mohawk. This cut greatly matches the sea horse. In the centre numerous thick braid extends down and fold on to each other at the neck. Smaller braids extend from the perimeter to the centre.
How to Style
Part hair into sections, dividing it into a base and the sides
Create corn rows around entire head, ending them at the base or the middle section which should be left
Then sew curly hair into the middle section
Style the Mohawk as you desire, either leaving it all at the crown or making some hair fall as bangs
Recommended Face
This hairstyle is ideal for people with oval and round faces.
Recommended Products
Use hair grease or gel if you like to give your ends a spiky look. Finish with some shine spray.
21 – Creative Cornrows
Cornrows are very common but you can style them in any way you want to have fabulous looking and completely new haircuts. In this style, the centre is heavy and on the very front the braids fold on themselves forming a big circular crown. Pair up this dress with some gorgeous earrings and some showy dress and all the heads will be turned towards you.
How to Style
Work on hair which is freshly washed and still slightly damp or rub some pomade into your hands and work it through small sections of your hair on which you are working.
Section you hair into a thin part and make a cornrow till the very end.
Remember though that the direction these cornrows will take will be towards the back of your crown and not the nape of your neck.
Similarly braid the hair at the bottom taking it upwards.
This adds volume to your head's back and give a twist to the conventional cornrows
Recommended Face
This is ideal for practically any face but suits more if you have a round or square face
Recommended Products
Use pomade or some coconut oil when styling if your hair is not wet. It makes the hair more manageable.