French braiding is one of the most basic and easy techniques of hair styling. Nothing looks elegant in hairdos like the French braid hairstyles. However, the intricate weaving pattern makes it appear complicated and time consuming. Perhaps that makes it the most popular as well.
With a touch of imagination, one can discover countless new hairdos derived from the French braid. These hairstyles have been hitting the red carpets all the time. Whether it is a prom, a typical work day or a wedding event, you can always figure something out with only a braiding technique in your pocket.
14. The Regular French Braid
All creativity set aside; sometimes it is best to keep things simple. With the normal French braid hairstyles, you do not have to worry about setting your hair right, applying hair accessories, and spending an unusual amount of time keeping your hair in order. You should simply pull hair from top of your hair back, divide into three portions, and take alternating strands crossing through the center, but adding hair to the sections from the head at every crossing. Tie the braid with a rubber band to hold it in place.
13. The side French Braid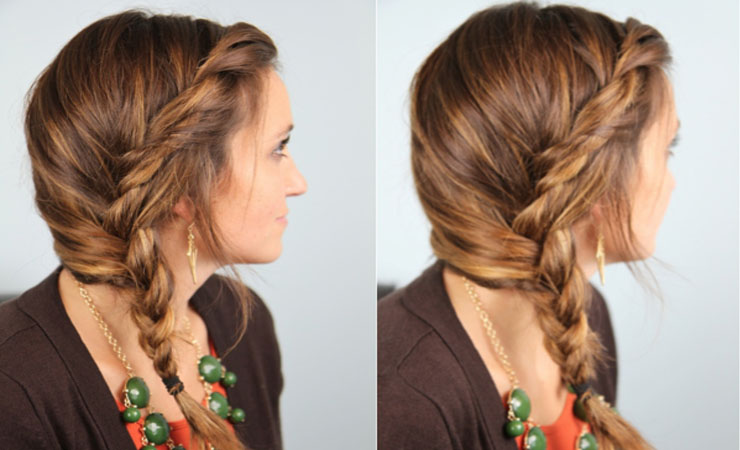 Making a side French braid is also a viable option for people with oval or square faces. Simply make a French braid at the side instead of the center. Wear your hair sideways for a more summer look. Great for outdoor parties.
12. Dutch French Braid
This modified French braid is a simple inverted version of the original, in all French braid hairstyles. Particularly signified a thick high French braid cascading into a ponytail with curled ends. The trick is to cross the alternating strands from under instead of over. That produces the inverted appearance. Great for round and oval faces and for naturally curly hair. Otherwise use a curling iron to add texture to your hair to give it the sufficient lift to make the style glamorous.
11. The Side Band French Braid
A Dutch braid at the hair line falling down the side to the ear, and then evolving into a curly ponytail signifies this hairstyle. Dutch braids in fact are a significant part of French braid hairstyles. Excellent for proms and night parties, this hairstyle is guaranteed to be a showstopper at your events.
Create a side part and start braiding along the hairline on the heavier side of the part. At approximately the ear level, tie the braid and let the lower portion curl down into a ponytail. You can finish this style in under five minutes after some practice.