6. Rihanna Without Makeup
When we talk about celebrities without makeup than it's hard to skip Rihanna out of the list because there have been thousands of forums discussing about her real beauty. Yup Rihanna the 8th most followed celebrity on twitter and the 6th most liked celebrity on facebook is just like an ordinary girl but she has a lovely and melodious voice which makes her rock the music industry and her fans love to hear her every time. Along with her singing career she is most of the time seen as a special guest in many parties, ceremonies and has a huge record of performing successful live shows around the globe. There have been many pictures of Rihanna without makeup but one is enough to do the analysis.
Credit: SPW/Splash News, Jason Merritt/Getty Images
7. Ariana Grande Without Makeup
21 year old Ariana Grande is one of the most rising singers of current era with a sweet voice and a bold personality to perform live singing in front of 1000s. Just like many other famous celebrities her online followers profile is really high on twitter and facebook and if we sum it together she is reaching up to 44 million followers. Ariana Grande is also performing in some TV series this year and has already been booked up for next couple of months for live performances, but to some extent if you get a chance to have a close look of Ariana Grande without makeup than you will ask yourself that is she really her or I am mistaking.
Credit: pixshark.com, michigandaily.com
8. Beyonce Without Makeup
Here comes the big name which kind of always most interesting in discussions for every one because of her stunning looks and harmonious voice, that's right it's Beyonce. One God gifted lady with so many talents including singer, actress, song writer and hell lot more. Mostly you guys see Beyonce in red carpet ceremonies or as being a special guest in live shows mostly the ones related to singing and acting, almost all the time in most of the ceremonies and parties Beyonce is the center point of attention for photographers and other high profile people. Some of the main reasons behind this are her artistic and fashionable dresses but as a matter of fact if you see Beyonce without makeup for once than you would say something like this for sure. She is not as pretty as she looks like on TV. Despite of this all Beyonce is currently the 4th most followed celebrity on Instagram and if we sum up her fans on twitter and facebook too along with that than the numbers easily reach around 100 million.
Credit: X17online.com; Jim Spellman/WireImage.com
9. Shakira Without Makeup
Now who in this world don't know Shakira. Millions of girls around the globe have the dream to shake their body in form of belly dance related moves just like Shakira. Out of every 4 users 1 is her fan on facebook, the official facebook page of Shakira has 105 million fans which is currently the biggest and most popular celebrity on facebook. Despite of facebook she is also the 15th most followed celebrity on twitter with around 28 million followers. According to most of her fans Shakira without makeup looks as pretty as she is with makeup so the choice is yours to decide that either Fans of Shakira are true about their most desired singer or not.
Credit: eonline.com
10. Scarlett Johansson Without Makeup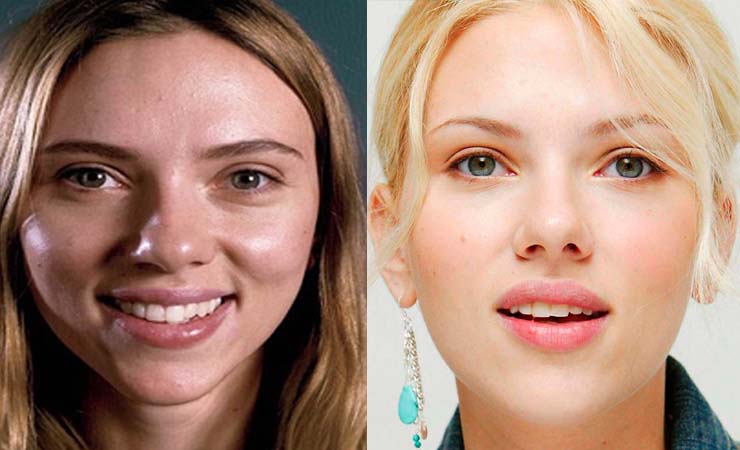 Scarlett Johansson is remarkable lady with many talents majorly including acting and singing and of course her stunning beauty which we always see in her movies. Just like many other celebrities without makeup, Scarlett Johansson also have a face behind that pile of makeup always put on while shooting of movies. So here is just one picture of Scarlett Johansson with and without makeup to do the analysis yourself.
Credit: apnatimepass.com, punkd.org