To look skinny and young is the wish of every celebrity, whether they belong to sports, media, film or politics. For that purpose, they immensely care to maintain their physique. Most of the celebrities follow a strict schedule of physical exercises and dietary plans according to the advice of their expensive and elite personal nutritionists and physicians. Let's check out the list of such skinny celebrities who claim that they do their level best to keep themselves slim and control aging effects on their physique. You won't like to miss out eminent skinny celebrities who are lanky and bony in their everyday life. You might want to check out our huge list of celebrities without makeup.
10. AnnaLynne McCord
With no belief in dieting and extreme hatred for gym, the famed American actress and model AnnaLynee is naturally pin thin. Her body is toned to suit her looks. Her physique is incredibly lean – a natural body type that is envied by all stars! And the secret of this skinny celebrity is revealed by herself. She says that she had gained a whole series of belly dancing routines of Neena and Venna (Egyptian twins) and since then she and her sister had been on the list of skinny celebrities.
9. Nicole Richie
The Simple Life fame, another American superstar of TV and cinema screen, Nicole Richie has a cool physique and is numbered among the most attractive skinny celebrities. According to Nicole, she has never suffered from an eating disorder but in 2006, her thinness forced her to take notice of it and resort to some nutritionist. Later it was publicly known that to overcome her inability to gain weight, she sought medical treatment. Although she looked scary thin in her film 'The Simple Life', but she maintained herself later and now enjoy an attractive look.
8. Megan Fox
Megan Fox, TV and big screen American actress, is considered as one of the sexiest women on the list of skinny celebrities. To maintain her physique, she cares a lot; always vigilant in taking diet and doing regular exercise. According to Daily Mail, she dropped two sizes after sticking to juices and vegetable diet recently. Though her trainer Harley Pasternak opposes the general opinion about her saying that people wrongly attribute her to be anorexic like all other skinny celebrities but it is a fact that Megan Fox does extra care about her physique. According to a statement given to American magazine, for a year and a half before she had been following a strict vegan diet based on raw fruits and vegetables, no bread, no sugar and no coffee. This vegan diet had turned her to mere skin and bones. But now after quitting her vegan diet she looks much healthier than before. Have a look at these pictures of Megan Fox without makeup.
7. Kate Bosworth
The Warrior's Way remained a hit in 2010 and made Kate Bosworth a star on the box office with her charming look and skinny physique. She had already gained appreciation in films Beyond the Sea (2006) and in Superman Returns (2006). Her bony and skinny athletic figure with lank physique looks incredibly thin and her toned body really deserves a name in the list of skinny celebrities. On the premier of her upcoming film Black Rock in California, her legs looked profoundly skinny and like all other super skinny celebrities. She is also claimed to have an eating disorder.
6. Lea Michele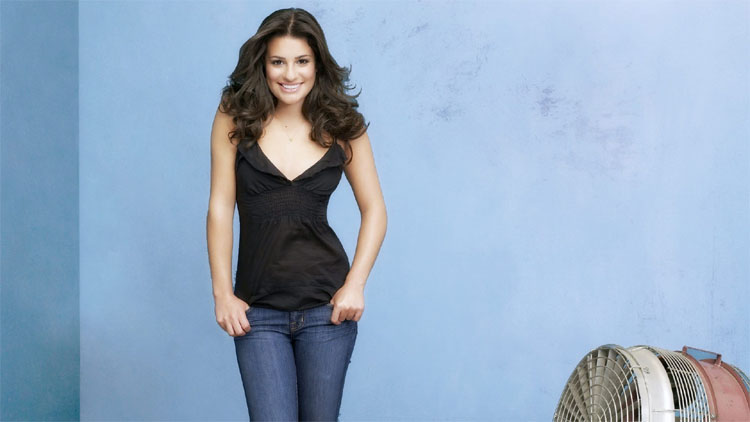 Michele is losing major pounds since the success of a hit show. When she was spotted at the Teen Choice Awards, the critics started to exclaim that she looks scary skinny. Michele is still in grief over the death of her boyfriend and couldn't manage with this loss. The star appears to have lost a considerable weight from her already slender frame. She is extremely cautious about her diet. She is not vegetarian according to her statement to the media but loves fish into her diet. She believes in her existence and finds out joy wherever she can find it. She appears to never give herself a hard time if she steers off track with the diet or workout routine but satisfies her self-worth and happiness. Like all other skinny celebrities, she believes that we have been given only one body so we should take care of it to the utmost extent and hence tries to keep her body toned to the people's desires.
5. Miley Cyrus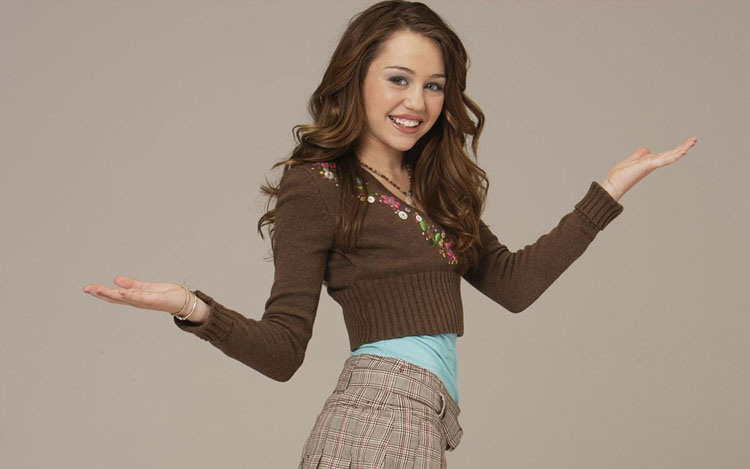 Miley Cyrus has much on her credit as a star. She is a singer, writer and a famed actress. Her physique is skinny but sometimes she seems out of the list of skinny celebrities as she was in the event of Australian awards ceremony, seemed bulky than usual. Unlike other celebrities, Miley Cyrus has to do much to maintain herself as she is born with a heart disease called tachycardia and perhaps the main reason of her looking skinnier. Have a look at these pictures of Miley Cyrus without makeup.
4. Elle Fanning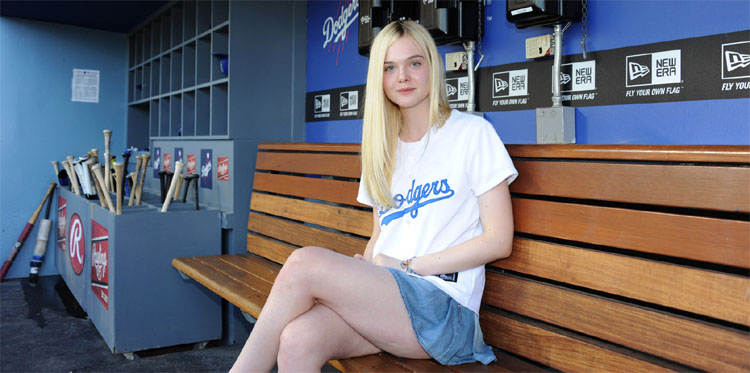 Mary Elle Fanning, being only 16, is perhaps the youngest of all skinny celebrities. She is exquisitely pretty and has a fantastic physique that charms her fans. She began her career with Phoebe in Wonderland and won fame on the screen as a talented performer, scoring Actress of the Year Award. With her 5 ft 7 inches stature, her weight is only 52 kg or 115 pounds. Such fitness helps her to look more smart and charismatic. Elle is not much caring in taking food. Her fondness for Fresh Salmon, Cookies, Vegemite Sandwich is well known but obviously unlike the aged actresses her body, being far younger is capable of consuming the calories and keep her healthy. Moreover her love for dancing also helps her maintain her physique.
3. Taylor Swift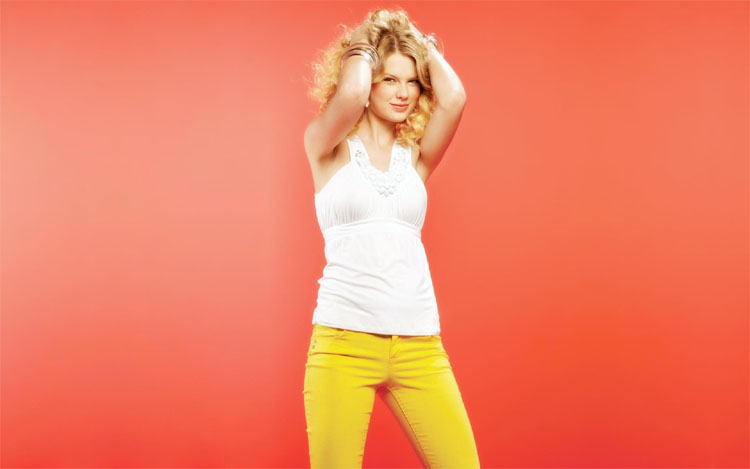 Known musician and singer, Taylor Alison Swift has a strikingly beautiful appearance. She is smart, young and extremely impressive body shape. She has only 119 pounds weight that is well matched with her height – 177 cm and helps her include herself in the group of skinny celebrities of the world. Taylor Swift seems not much caring of her diet as cheesecake is her most favorite food. Her naturally built stature allows her not to worry much about saturated fats. However a few critics think that she is starving to be skinny and has already touched the danger zone that is certainly not good for her health in such a younger age. Radar reports her doctors saying: "she is right on the lower end of the scale now". This is what her fans feel shocking about her glamorous look. Taylor Swift is a beauty queen and its no doubt that she is one of the most desired women all over the globe but her fans might want to see the other side of Taylor Swift without makeup as well.
To her fans, her skinnier appearance may also be the result of her joining the Tracy Anderson Gym for losing weight that advises her to take a calorie amount from 500 to 1000 a day. Whatever the causes are, Swift herself loves to be among skinny celebrities and keep her an icon of glamour and magnetism.
2. Kate Middleton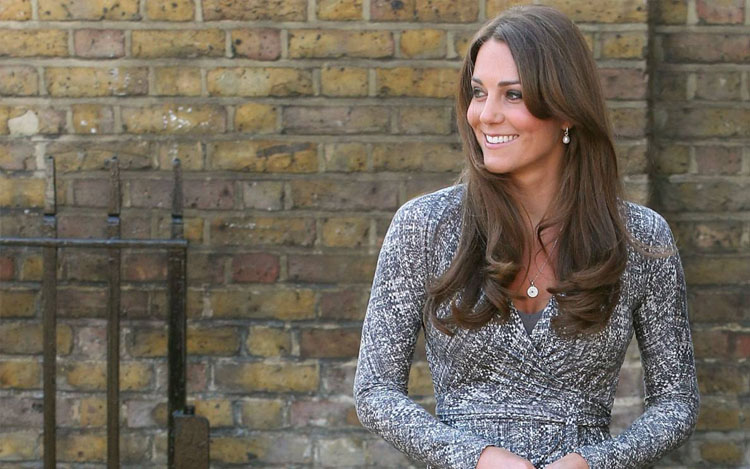 Duchess of Cambridge and the spouse of Prince William, Kate Middleton is frail and skinny these days and is listed with the skinny celebrities. Kate always had a very slender figure but most recently the English royal has been seen looking frail and skeletal at a speculated unhealthy 98 pounds. Of course this is too much for her height and her body type. Those around her have been concerned for her health as her weight plunges to deep depths and lately she has also been suffering from illness rumored to be due to an unannounced pregnancy. People have been criticizing it and attribute her weight loss to an eating disorder but the truth is she's suffering from Hyperemesis Gravidarum (HG).
1. Angelina Jolie
Angelina Jolie can easily be listed with skinny celebrities with her 97 pounds weight, quite below than required for her 5ft 8in height. Grazia magazine disclosed that Angelina takes surprisingly low amount of calories a day i.e. only 600. It is equivalent of two bowls of cereal with milk. She takes a spoonful of coconut oil and a bowl of cereal in her breakfast. Most of the skinny celebrities tend to eat less and Jolie has gone further than that. Lately a magazine wrote that she's surviving on eating almost nothing. She takes food made with grains and raves due to their health benefits. However the problem is she is not balancing her diet with fruits, meats or vegetables. Her fondness of seeds and grains is the main reason. Despite all this, Angelina Jolie has a charming look that is remarkably appreciated by all her fans worldwide but have a look at some pictures of Angelina Jolie without makeup because she is also like a common women.
Regardless of the pains the Skinny celebrities suffer to keep themselves slim, it is a fact that they impress us most than that of those who have fetish or imbalance physique. Thus most of the skinny celebrities try their level best to maintain a well-shaped and thin physique. For this purpose, they are always cautious in taking food. Most of them go for exercises and some even starve just to keep up their attractive look. Their fans also like to see them slim and the celebrities have to be mindful of that.